Page no: Mo21
Chrome
Checklist Item
Synched
George
User Kat/Andy
How to do
Profile George Icon Man
Profile Kat/Andy Icon Woman
 Profile help

sync via kaspersky.george
sync via kaspersky.george
Autofill
Yes
Do not really it?
Bookmarks
yes
yes
yes
Extensions Help
Manual Install on Android
Extensions
yes
yes
yes
(no screen)
History, Sessions
Delete Data on Exit!
Passwords
yes
Keep: On for password proposal
But switch off any storage
Tableau
yes
yes
yes
Settings: Home Pages
(under General)
No
no (do not use sync profile user data)
no (do not use sync profile user data)
What are settings that are synched?

How many homepages? –> George decides

Settings: Address bar
Yes
Show Full Address
Settings: Privacy
no?
Do not track

Settings: Cookies
Yes
Session Cookies only
Exceptions:
Trello: user GD
PomodoneApp: user georgeE-ll
Session Cookies only
Exceptions:
Trello: user AG
PomodoneApp: user georgeE-ll
Delete cookies on exist = Session only
No Third Party Cooklies
Settings: Search Provider
No
Google
Use high-resolution animated background
Yes
Show Yandex Zen recomm
Yes
Open PDF in Browser
Yes / Enabled by Default
Side Bar Panel
No
Download ON: Ask where to save
Yes / Configured by Default
Collections: All 3 checkboxes OFF
No
Display Language: English US, English, German
No
Spell Check: English, German
No
Offer to Translate
Yes / Enabled by default
Vivaldi
Action Checklist
Checklist Item
Synched
Settings

Synched Items
sync via kaspersky
sync via kaspersky
Autofill
Do not really it?
Bookmarks
yes
(no screen)
Extensions
yes
(no screen)
History, Sessions
yes
Delete Data on Exit!
Notes
(no screen)
not needed
Passwords
Yes, Switch Off
Settings: Home Pages
(under General)
yes
What are settings that are synched?

How many homepages? –> George decides

Settings: Address bar
Show Full Address
Settings: Privacy
no?
Do not track

Settings: Cookies
no?
Delete cookies on exist = Session only
No Third Party Cooklies
Settings: Search Provider
?
Settings: Sidebar
Bookmarks,Downloads,notes,History,
Window,Extensions
Not Synched items
download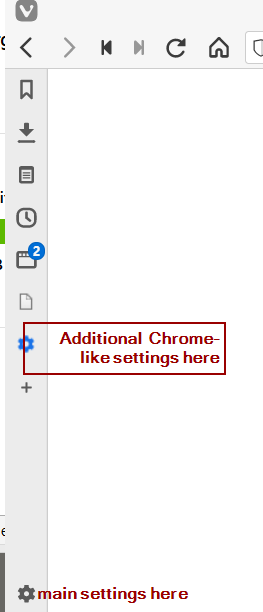 Firefox
We use the portable version
Action Checklist
Checklist Item
Values

Done On

Homepage
Trello, Doc Ellusion, Weather
folder copied to all
Addons/Extensions
see Extensions page
Search Provider
Google
Delete Data on Exit
Security
Medium High

Website Blocker

No location sharing

Save Passwords
Switch Off
How copy these settings from one computer to another?
Just copy the Firefox folder, for example from Elite folder to MediaPC folder.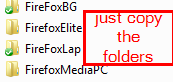 On local installations, however, one must do these settings manually for each computer.
Example Microsoft Internet Explorer below.
Internet Explorer
Action Checklist
Checklist Item
Values

Homepage
Link
Extensions, Accelerators
Disable all except Google Toolbar (see screen)
Search Provider
Google
Delete Data on Exit
Help Link
Security
Medium High
exp
Website BlockerNo location sharing
 Save Passwords
Switch Off
​​​​
Chrome

Advantages:

Sync of bookmarks
Sync of extensions/add-ons
(Sync of history)
Automatic update of extensions

Privacy Problems:

Do not allow Google to call home and collect all your information!

Use alternative tool for bookmark sync: Eversync
Install extensions manually: Do you really need them updated regularly?
Delete History on exit
Portable version exists

Chrome Delete Data on Exit

Chrome Delete Data on Exit

Firefox Settings

Firefox Privacy Settings

Firefox Privacy Settings

FireFox Private Browsing

A stronger way is to use private browser

This deletes cookies on exit
and more: Not remember browsing history

FireFox use Private Browsing

Browser Options

This option is for cookies and site data from websites, we set this to keep this information until we close our Firefox.

Browser Options

FireFox Clear Offline Website Content

FireFox Clear Offline Website Content

Mozilla Firefox Available Update

Mozilla Firefox Available Update

Security Settings and Problems


Loading Page

Troubleshoot the "Secure Connection Failed" error message

If Firefox can't access a secure site (one that starts with https) you will see an error page with the heading Secure Connection Failed
and a message about the error.

Problem Loading Page

Website issues

Some websites try using outdated (no longer secure) TLS mechanisms in an attempt to secure your connection. Firefox protects you by preventing navigation to such sites if there is a problem in securely establishing a connection. When this happens, you will see the Secure Connection Failed error page. If you experience this problem, contact the owners of the website and ask them to update their TLS version to a version that is still current and still secure.

Security software conflict 

Extensions

Disable all extensions including Google Toolbar.

Passwords


Disable passwords saving on Internet Explorer: Screen

Homepage

Homepage === Startup

George

Startup Settings for Vivaldi

Extensions

Extensions are automatically synced once you are logged in the account and started the syncing option.

There are several things you can sync automatically:

Bookmarks
Settings
Password –> we don't like this kind of sync
Autofill
Typed History and Remote Sessions
Extensions
Notes

.
Search Provider

In Search section you can configure, with which tool you want to search through internet.

There are several Searching tools:

Google –> we use google for our searches
Startpage
DuckDuckGo
Ecosia
Wikipedia
Qwant

Search Settings for Vivaldi

Download

You can configure location in which all downloaded files to be saved.

Download Settings for Vivaldi

Private browsing allows you to browse the web without leaving traces. It is achieved through a special browser window and ends at soon as you close the page. This tutorial explains how to always open Firefox in a private window.

Use Private Browsing As Default Browsing Mode

There are two possible methods that can be used to enable the default private browsing mode:

Migration to new Computer

Method 1

Open Firefox. Type about:config in the address bar and press Enter. Search for the entry named browser.privatebrowsing.autostart. Double-click to edit this key and toggle its value to True:

Restart Firefox to apply your new settings.

Private Browsing Autostart

Method 2

Click on the Menu button > Options and then navigate to the Privacy tab. Click on the drop-down menu next to Firefox will: and then select use custom settings for history:

Privacy History Settings

Tick the Always use private browsing mode checkbox and click on Yes when prompted to restart Firefox:

Firefox will now auto start in the private browsing mode, meaning that your browsing history, download history, searches, and form history will not be saved. Cookies will also automatically delete at the end of each browsing session.

Tracking

Cookies

Remove cookies on exit.

Too much spam, sales

Cookies on Exit: Google Chrome

Google Chrome doesn't include the ability to automatically clear all your private data when you close it. However, you can have Chrome automatically clear cookies on exit or use an extension to have it automatically clear everything.

1) To get started, open the Chrome menu and select "Settings".

2) Click the "Show advanced settings" link at the bottom of the Settings page.

3) Click the "Content settings" button under the Privacy header.

4) Under Cookies, select "Keep local data only until I quit my browser" and click "OK". When you close Chrome, it will now automatically clear your cookies

Privacy Remove Cookies Chrome

Cookies on Exit: Mozilla Firefox

Firefox has the built-in ability to clear all your private data when you close it—no extensions required. To get started, open the Firefox menu and click "Options".

1) Click "Privacy" in the left pane.

2) Under History, select "Use custom settings for history" from the "Firefox will" drop-down list.

3) Then, check the "Clear history when Firefox closes" box.

4) To choose what you want Firefox to clear when you exit, click "Settings".

5) Check the boxes for the types of History and Data you want Firefox to clear on exit and click "OK".
See more for